How Big Is the Restoration Industry?
Restoration 1 is at the forefront of the booming $210 billion restoration industry
The American restoration industry has grown to an astonishing $210 billion annual market and due to several factors, including aging American homes and infrastructure, the worsening severity of storms, the influx of wildfires and frequent flooding. This points toward a skyrocketing market for home and commercial restoration in the coming years.
Disaster can strike at any moment, but one thing is certain, disasters happen often. Marketwired reports that more than 14,000 people experience water damage every single day, and damage from "water leaks and frozen pipes cost consumers and insurers more than $10 billion every year in the U.S." * Water damage also is extremely expensive, with Home Advisor reporting that the average costs to repair water damage ranges from $1,038 to $3,607, and can approach well over $6,000 if the damage is severe. The U.S. Census reported that the average age of a home is nearly 40 years old, so this type of damage is expected to continue.
With water damage, there is always the danger of mold growth. Mold damage can occur no matter when a home or commercial property was built. Mold can grow without water damage occurring at all, making unsuspecting home and property owners vulnerable, especially if they live in modern, eco-friendly homes:
"Experts say mold is not more prevalent these days; instead, we are more aware of it," The Washington Post reports. "The way new homes are built may not be helping matters. New energy-efficient homes tend to be conducive to mold growth because of their tightness, which restricts air movement."
The cost of ridding a home from mold growth is also expensive. Home Advisor reports average spending is between $1,111 and $3,211, with high costs approaching $6,000.
While water damage and mold growth are both far more common, experts say that homeowners can expect more property damage as the result of climate change. In 2016, the Environmental Protection Agency reported $6 billion in property damage from severe storms, a number that has remained constant since 2008. Flooding is likewise becoming an issue, especially in the American Southeast, where millions live along the coasts. In 2016, the EPA reported $2 billion worth of property damage. Environmental events such as droughts and wildfires cause billions of dollars in property damage within the United States.
Fire and smoke damage also costs home and property owners, as well as insurance companies, billions of dollars every year. Home Advisor reports that homeowners spend anywhere from $2,586 to $12,993, with the highest amount being more than $60,000 to restore a home.
How Restoration 1 is getting restoration right
Restoration 1 is one of the fastest growing restoration franchises in the nation, with over 115 locations open across the country. Restoration 1 specializes in a wide array of emergency mitigation and restoration services. Widely hailed as an industry innovator, Restoration 1 utilizes the most advanced technology to combat water, mold, smoke and fire damage. With 24/7 availability, locations are ready when disaster strikes unexpectedly. Restoration 1 is able to tackle jobs of any size at any time.
Every one of Restoration 1's property restoration experts are licensed, insured and certified by the Institute of Inspection, Cleaning and Restoration Certification (IICRC) and the Indoor Air Quality Association (IAQA). Restoration 1 also has a 100% guarantee on all services, operating with skill, speed and empathy in order to get customers back in their homes as fast as possible.
Many factors set Restoration 1 apart from the competition, who may cut corners or hire unqualified personnel. It is our commitment to customer service that Franchising rightly dubbed, "The Restoration 1 Difference":
"Representing the individual home or business owner is what sets Restoration 1 apart from its competition," the CEO said. "The company works directly with home or business owners' insurance companies or adjusters to keep the process as simple as possible."
"We help our customers throughout the process, so as to cause the least amount of disruption in their life," Gary told Franchising. "Customers are amazed at how quickly and thoroughly we work in order to get their properties back to their pre-damaged state. We only use high-quality materials and operate above code requirements so that our customers can relax, knowing that their properties are receiving the best restoration services available."
For Franchise Information
Request Franchise Information
Want to learn more about opening your own Restoration 1 Franchise? Fill out this form to get started: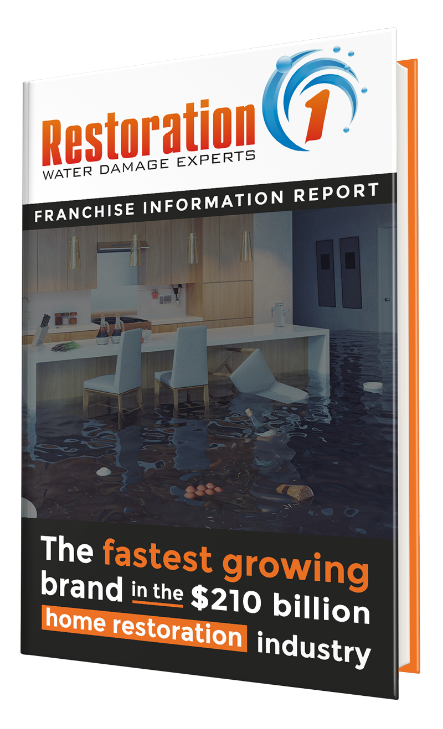 Latest Franchise Articles