RESTORATION FRANCHISE NETWORK
Low-Cost Investment Opportunity With High Potential Returns
At Restoration 1, we are committed to helping entrepreneurs create generational wealth while empowering their communities during challenging times. Be part of a restoration franchise network that values your success.
BECOME YOUR OWN BOSS!
Contact us today to get started on the journey toward owning your own business.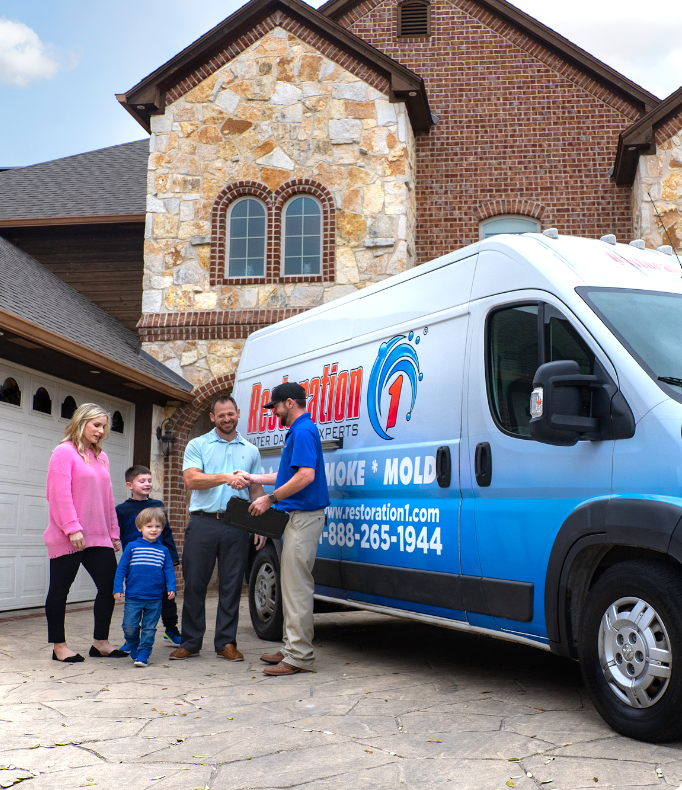 WE HAVE A PROVEN FRANCHISE MODEL BACKED BY DECADES OF EXPERIENCE
Life's too short to build someone else's business. Start building YOUR future with help from the fastest-growing restoration franchise in the $210 billion recession-resistant restoration industry.
Restoration 1 has 193 franchises in 43 different states in the United States. Explore your investment opportunities and discover the path towards rewarding work that fulfills your dreams:
Recurring Revenue Potential
Restoration 1 mold remediation franchise owners get the chance to expand and achieve revenue growth in a short period.
Franchisee Control
Our franchise model is designed to train you and set you up to effectively manage your team and assets.
Quick Ramp-Up Time
Restoration 1 has a fast-start program that enables you to get your new endeavor off the ground and running quickly.
HEAR FROM OUR FRANCHISE OWNERS
Overall, the organization really helps you gain traction very fast. … The margins are definitely there. What really has me excited about Restoration 1 is the potential to expand, the potential to grow. And it's not just the opportunity within Restoration 1 to buy additional franchises. When Gary talks about the next five to seven years, we'll be the number one restoration entity in the country, I believe him. That's exciting!
— Craig Nielsen,
Peachtree City, Ga.
We both went into this business knowing that whatever company we run as company owners, we want it to be a very family-run, family-owned type of business. It was really nice to see that in a corporate setting as well. We're not just joining a company that is corporate, we can get to the people – they are all family-oriented.
— Joe Turner,
Northwest Chicago, Ill.
It's a great business. We have great margins. … The corporate team is fantastic people. I've heard that experience across franchises. The support team there is truly solid. If you follow the system that they have –they've done so much footwork – we've got a lot of great data about what works and if you can put the time in, somebody who has got the drive, you can build a great business.
— Brad Jeffries,
Jackson, Miss.
TOP REASONS TO OPEN A RESTORATION 1 FRANCHISE
Founded in 2008, Restoration 1 is led by a passionate executive team with decades of experience in growing franchise systems and helping entrepreneurs live their dreams of owning a recession-proof business with high-demand services. When you become one of our mold, fire and water restoration franchises, you can rest assured your business is well-taken care of.
Here are the top reasons Restoration 1 is an attractive investment opportunity for first-time entrepreneurs and veteran investors alike:
NATIONALLY RECOGNIZED LEADER
In 2018, Restoration 1 was named to Entrepreneur Magazine's Franchise 500 list of the best franchise systems to invest in for the third consecutive year. We charted high at No. 132, which is 227 spots up from the previous year.
BE IN BUSINESS
FOR YOURSELF
Restoration 1 is an opportunity for an entrepreneur to get in on the ground floor of the brightest brand in the booming home restoration industry. By becoming one of our mold, fire and water restoration franchises, you get to manage a business where YOU'RE in control.
LARGE, PRIME TERRITORIES AVAILABLE
Unlike other brands in the restoration industry, which are either sold out of territory or are close to being sold out, Restoration 1 has prime territory available. We've opened 20 new locations since the start of 2021 and continue to expand our service locations.
DATA-DRIVEN MARKETING STRATEGY
Restoration 1 has a growth-driven marketing and lead generation strategy for its mold, fire and water restoration franchises, allowing you to maximize different revenue streams.
The $210 billion restoration industry is only projected to grow in the coming years, as homes and infrastructure continue to age and more natural disasters impact communities.
Restoration 1 is a home-based business with zero inventory and without the expense of a brick-and-mortar purchase or lease. You get to operate without overhead or buildout costs.
BECOME YOUR OWN BOSS AND GAIN ACCESS TO MULTIPLE REVENUE STREAMS
With hundreds of locations open and in development, Restoration 1 is poised to become the leading brand in the restoration services industry. Now's the ideal time to invest in Restoration 1.
Take advantage of our viable franchise system and become one of the leading mold, fire and water restoration franchises in your local market.
WE MAKE BECOMING A
RESTORATION 1 FRANCHISE OWNER SIMPLE
Here's how you can get started as a restoration and mold remediation franchise owner:
SUBMIT YOUR INFORMATION
Fill out our contact form to learn more about opening your own restoration and mold remediation franchise. We will email you with a FREE Restoration 1 report containing detailed information about our brand and franchisee requirements.
GET A FREE CONSULTATION
A member of our franchising staff will schedule a short call with you to introduce ourselves to one another, walk you through our franchise buying process and address any questions you may have.
ATTEND A
12-DAY TRAINING
Once we've determined you're financially qualified and a good fit for Restoration 1, we will schedule a 12-day training to help you learn the fundamentals of the business and equip you with the resources you need to open your restoration franchise.
GET STARTED WITH
YOUR BUSINESS
Scale quickly with the support of a restoration franchise network committed to helping you effectively manage and market your business in your local community. Our Restoration 1 family is with you every step of the way to ensure you achieve long-term success.
HOW MUCH DOES IT COST TO
OPEN A RESTORATION 1 FRANCHISE?
Restoration 1's franchise fee is far more affordable than other franchises. With a low startup cost, you can anticipate high returns over time. Startup costs are based on variables that our team of expert franchise consultants will be happy to discuss with you.
Once you become a restoration and mold remediation franchise owner, we provide you with a proven business model that has helped several first-time entrepreneurs without industry experience achieve profitable results. Your franchise fee also grants you access to training sessions to help you grow your local business.
GET MY FREE RESTORATION
FRANCHISE CONSULTATION NOW
Want to learn more about opening your own Restoration 1 Franchise? Fill out this form to get started:
Request Franchise Information