Restoration 1 Franchise FAQs
Answers to common questions about the award-winning franchise opportunity
The total investment estimate for a Restoration 1 franchise ranges from $84,500 to $193,125. Because Restoration 1 is a home-based business, with little inventory and no brick and mortar expenses, costs are substantially lower than other restoration franchise brands. Restoration 1 is a low-cost investment with high potential returns.
For a more detailed look at cost and investment information, please visit the Initial Investments and Startup Costs page.
To franchise with Restoration 1, you will need to have the required minimum liquid capital of $75,000 to open your own new business.
Yes. The continuing royalty fee is 7%.
We do not offer direct financing. However, we work with a number of third-party financial institutions that may be able to help you with financing.
None! We recommend that you have a proven track record of leadership experience, are confident in your ability to manage people, an entrepreneurial spirit and the drive to follow our proven business model as you bring Restoration 1 to your community.
Veterans are uniquely qualified to franchise with Restoration 1, as they have a proven ability to follow systems, procedures and processes necessary to make any venture successful. Because our business model is easy to run and easy to scale, Restoration 1 is a perfect fit for honorably discharged veterans who aspire to turn their dreams of entrepreneurship into reality. Honorably discharged veterans are eligible to receive 20% off their first franchise fee.
Yes. All of our franchisees and their technicians are required to be certified by the Institute of Inspection, Cleaning and Restoration Certification (IICRC) and the Indoor Air Quality Association (IAQA). We will help you achieve these qualifications during your initial 12 day training session.
Restoration 1 was designed to be an easy-to-run, easy-to-scale business that can be just as successful for an experienced entrepreneur as it is for a first-time entrepreneur. Restoration 1 has developed an intensive training platform that includes how to manage every aspect of your business, including learning how to network to build referral partners, sell your services, perform your services with expertise, manage customer relationships and effectively market your business in your community, including on your social media platforms. We provide continual reviews to help you meet financial and performance goals on a monthly basis, including the development of a business plan before you open your business.
None! Restoration 1 is a home-based business that does not require a brick and mortar space nor the expenses that come with it.
Restoration 1 only requires a small staff to get started. We will help you scale your business in a smart fashion, so that you will be able to hire more employees and take on more jobs as you grow.
For Franchise Information
Request Franchise Information
Want to learn more about opening your own Restoration 1 Franchise? Fill out this form to get started: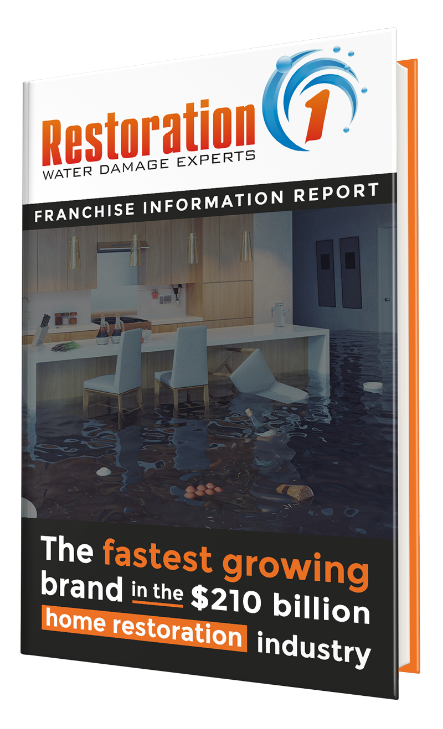 Latest Franchise Articles
Fast-growing restoration franchise brings on new executive to help grow the brand and deepen the culture of support A franchise...