What Is a Restoration 1 Franchise?
One of the fastest growing home restoration franchises is poised to become the nation's first household name for restoration services
Restoration 1 may be the new kid on the block, but the brand founded in 2008 is poised to become the nation's first household name for restoration services. While the national chains are either rapidly running out of available territory or are sold out entirely, Restoration 1 has become one of the nation's fastest growing restoration franchise.
After growing by more than 100 locations in two years, Entrepreneur magazine named Restoration 1 as the No. 132 best franchise investment on its annual Franchise 500 list in 2018. Last year, Entrepreneur also ranked Restoration 1 as the No. 72 fastest growing franchise in the nation for 2017.
With hundreds of locations open or in development across the United States, Restoration 1 is leveraging its excellent reputation as the leading brand for water, fire and mold restoration and remediation services by ramping up a nationwide expansion campaign with the goal of 500 franchise locations open in the coming years. Restoration 1 is a low-cost franchise opportunity and proven business model that has been designed to be easy to run and easy to scale, with the focus on providing exceptional customer service to home and property owners in times of crisis.
"We really have the wind at our sails," says Micah Findley, VP of Operations of Restoration 1. "Our brand has a ton of momentum because our franchise is the bright spot in a rapidly growing industry with many of the larger brands stagnating, sold out of territories or unable to compete in a 21st century market. Restoration 1 is successful because we've designed our business to be effectively turn-key, with a low investment, and without the added expenses of a brick and mortar building. Our franchisees use their natural talents as networkers, alongside our proven system and the tools that we provide, to become established in their communities as the go-to restoration business. This is why our franchise attracts former stockbrokers, corporate executives and tradesmen alike, all of whom have equal success. Restoration 1 is a simple business to understand and it's even easier to own."
The American restoration boom isn't going to slow down anytime soon. A $210 billion market, the American home and property restoration industry is likely going to continue to skyrocket. The U.S. Census reports that the average American home is nearly 36 years old. While aging homes are easy candidates for water and mold damage, the likelihood that a home or property owner will experience water and mold damage is almost inevitable. Marketwired reports that more than 14,000 people experience water damage every single day, and damage from "water leaks and frozen pipes cost consumers and insurers more than $10 billion every year in the U.S." *
"For as long as there are people living in homes with running water, there is going to be water damage," Gary says. "It's a problem that is unavoidable for home and property owners. Unfortunately, most home or property owners don't realize there is a problem until it becomes a crisis. This is why the restoration industry is a recession-resistant business, because when a crisis occurs, it isn't an option to have it fixed or not."
Restoration franchisees have access to multiple revenue streams
Restoration 1 franchise owners are the leading names in their communities for water, mold and fire remediation and restoration services, as well as emergency services, storm damage services, sewage system cleanup and more. Each of our restoration experts is fully trained and certified by the Institute of Inspection, Cleaning and Restoration Certification (IICRC) and the Indoor Air Quality Association (IAQA). Franchise owners are trained in how to establish themselves in business by becoming the preferred referral partner of local plumbers, home inspectors, home adjusters, insurance agents and other third party tradespeople who have the ability to spot a problem within a home.
"Our franchisees are natural networkers, who want to engage their communities," says Gary Findley, CEO with Restoration 1. "Because our business is turn-key, it doesn't take very long for a new franchise to become established. We train our franchisees extensively as to how to effectively network in order to build a substantial partner referral base. We want our franchisees to be working jobs every single day, and so we build a pro forma business plan with our franchisees that helps them realize their long-term and short-term goals. We touch base with our franchisees at least once a month to go over their business plan and help them determine where they can spend their energies to become more profitable. We want them to be successful, and we will work with them as they scale, so that they can be profitable over the long-term."
Because disaster can strike at any moment, Restoration 1 is available 24/7. While our franchise owners are extensively trained to skillfully navigate the insurance companies on behalf of the customer, as well as to get paid, what truly sets Restoration 1 apart from the competition is our commitment to exceptional customer service.
"Our franchise owners are often dealing with customers who are in the midst of a crisis, so it's very important to have empathy," says Micah Findley, COO of Restoration 1. "Restoration 1 employs a level of transparency that is uncommon in this industry, providing the customer with continual updates as to the status of every job, as well as a guarantee that their homes will not only be left in perfect condition, but that they will be safe to live in their homes again. We take customer service extremely seriously. We place follow-up calls with the customers to measure a customer's happiness with our services, as well as provide franchise owners with details on the quality of their technician's work."
For Franchise Information
Request Franchise Information
Want to learn more about opening your own Restoration 1 Franchise? Fill out this form to get started: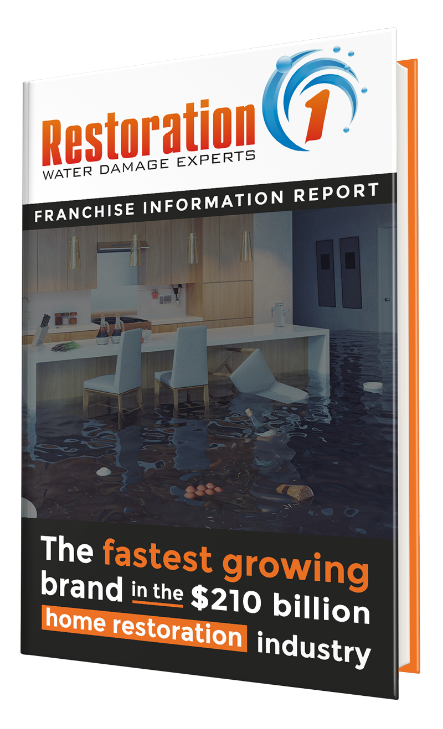 Latest Franchise Articles