What Services Do We Provide?
Restoration 1 is the industry leader for water, mold, smoke and fire damage restoration
Restoration 1 is a trusted name in the home and commercial property restoration service industry. Since 2008, we've helped thousands of home and property owners return safely to their homes and properties after disaster strikes. Whether it's mitigating water, fire and smoke damage, or removal and remediation of dangerous mold, Restoration 1 franchise is the brand customers turn to for restoration services to help get back into their homes and commercial properties.
At Restoration 1, we understand the overwhelming difficulty of dealing with damaged property, whether commercial or residential. Coming home to find water damage, lingering smoke odors or mold isn't a welcome surprise. It can be financially stressful as well as emotionally draining. We aim to provide quick, reliable services to those who need it at exactly the time they need it. Our customers can trust our expertise. In fact, all of our property restoration experts are certified by the Institute of Inspection, Cleaning and Restoration Certification (IICRC) and the Indoor Air Quality Association (IAQA).
Our reputation for fast responses, unparalleled quality, and uninhibited commitment has contributed to our growth as a company throughout the United States and Canada. We understand that the need for property restoration services can come at the most unexpected time, which is why we are always ready to help! Restoration 1 aims to exceed the expectations of every customer we work with and restore their property to its pre-damaged state.
The Restoration 1 Promise:
"When we get called to do a job, it's very often that we're dealing with a customer who is in crisis mode," says Micah Findley, VP of Operations of Restoration 1. "We take that extremely seriously, and have steps in place to ease their minds that allows us to be completely transparent. Before we do any work, we provide our customers with a free consultation, a quote, and a timetable of how soon a job can be completed. We also do a professional job quickly, so that our customers can move back into their homes as soon as it is safe for them to do so."
How do we win
business?
As the leading brand in the restoration industry, Restoration 1 is widely known in communities where we are established for our exceptional customer service, the expertise of our franchise owners and their technicians, as well as our level of professionalism. But how does a new franchise owner establish themselves in a community, out-competing both national chains and independent operators alike?
Long before a franchisee enters a new market, Restoration 1 franchise provides extensive training in not only how to sell our services, but also how to build up a large referral base of the professionals in every community. Our referral base consists of community members who typically have access to homes and properties, as well as the ability to spot a problem. This referral base includes: plumbers, home inspectors, home adjusters, insurance agents and other third party tradespeople.
"Our franchisees are successful because they use their talents as networkers to drive business," Micah says. "We play a valuable role in communities, and we're in business not only to make money but also to help people whose homes and properties require serious attention. Unlike our competition, we do not slap a logo on the side of a truck and wait for the phone to ring. Our franchisees are go-getters. They go out and build relationships with local professionals, they attend business functions, they join their local Chambers of Commerce. They ask themselves, 'What am I doing today to help my business grow?'"
It was networking that attracted Jeff Santana, owner of two Restoration 1 franchises in Jacksonville, Florida. Jeff was a former executive in the health care industry, before he decided that he wanted to take his future into his own hands:
"I wanted to buy a business that would have positive cash flow very quickly, and this business is excellent for that," Jeff says. "While the company does have a great marketing department, winning business requires you as the owner to be confident, network and do quality work. Restoration 1 is a great company, the executive team has integrity and they provide extensive training. This business ramps up extremely quickly, and with two franchise territories, my hands are entirely full at the moment."
For Franchise Information
Request Franchise Information
Want to learn more about opening your own Restoration 1 Franchise? Fill out this form to get started: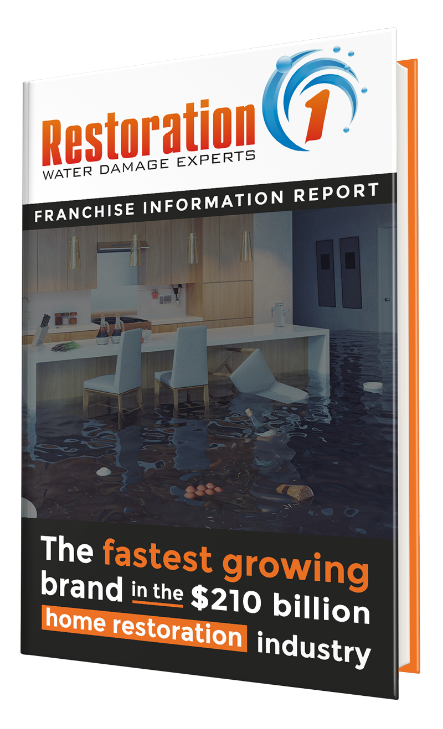 Latest Franchise Articles
Fast-growing restoration franchise brings on new executive to help grow the brand and deepen the culture of support A franchise...